Back to Previous Page | All News Items
---
Townsend thankful for new role as a Falcon
NEIL RYE Sep 4, 2018
The Eagle Post
Fort Campbell | September 4, 2018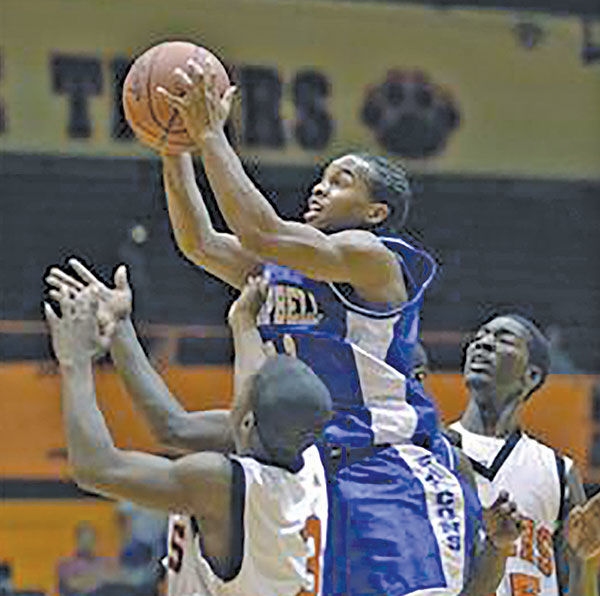 Fort Campbell had searched for nearly a month for its next head boys' basketball coach before the high school made its decision to promote from within, giving the Falcon head coaching reigns over to former assistant Robbie Townsend on Aug. 22.
Townsend said that it is a blessing to be able to run the same program that he played for during his high school days where he scored over 1,000 career points.
"It means a lot," Townsend said. "God put me in a situation and gave me an opportunity. You know it's humbling, but it's a blessing. I played for the program so it takes it to another level as far as how I feel about it. It means everything to me."
Townsend has served on the Fort Campbell coaching staff for the past two seasons.
In his final year as a Falcon  player, Townsend signed to continue his academic and playing career at Western Kentucky University. The process was a joyful one that Townsend said he will never forget.
"It was a great experience," Townsend said happily. "That's the actual goal coming out of high school is to play college basketball at any level. Like I tell my guys you get out what you put in. It was a blessing."
Townsend decided to go the junior college route after completing one year at WKU. He transferred to Motlow State in Tennessee and then again to Lincoln University in Missouri. Townsend said he had to learn the hard way when it came to eligibility and other collegiate nuances, but believes it was all for good reason.
"To make a long story short I ended up finishing my degree at Austin Peay State University," Townsend said. "Going through what I went through it was a blessing and I'm glad I did it that way. Now I can grab guys who were in my exact situation, but their journey won't be as tough as mine was."
When asked what coach impacted him the most on the court as well as off of it, many immediately came to Townsend's mind.
"Every coach that I've played for has showed me a lot about life," Townsend said. "That it was bigger than basketball. Relationship wise, my junior college coach Jerry Nichols and I talk a lot. He coaches at Tennessee State University now and I just went up there with him yesterday to watch them practice. He was young enough to where he could relate to some of the things I was going through, so he has had a major impact in my life."
Besides producing winning results on the floor, Townsend wants his players to put in the hard work necessary that it takes to become successful.
"If you're putting in that hard work and dedication, then you'll see positive results," Townsend said. "I want to show them about life through the game of basketball. If they can learn that and put all of their energy into whatever it is they're doing, then I'm fine."
Townsend believes that being on post gives Fort Campbell a competitive advantage over other teams because they are able to play the very best that Kentucky has to offer.
"You're playing against the top competition in Kentucky," Townsend said. "I honestly feel that as a player and as a coach, you're in the toughest district. You're playing against the best with UHA, Hoptown and Christian County. They always got top-tier guys playing, so to experience that is a blessing."
The Fort Campbell head coaching job appealed to Townsend for numerous reasons, but the chance to be able to break in a new gym for the player turned coach was just too good to pass up.
"Now we're in the new gym and it's a beautiful building," Townsend said. "I just can't wait to open up and play in it. I'm excited. As a player I didn't get to play in that gym, but I'm glad that God gave me the opportunity to coach in it."
Reach NEIL RYE at 270-887-3261
---