For Immediate Release
Date: September 8, 2023
FCHS partnership with Vanderbilt Brain Institute challenges, enlightens students
Story by Kenneth Lewis, DoDEA Americas Public Affairs
As School Year 2023-2024 gets underway, Fort Campbell High School (FCHS) students enrolled in the Advanced Placement (AP) Research Capstone Program are readying themselves for a challenging and rewarding experience thanks to a recently established partnership between FCHS and the Vanderbilt Brain Institute (VBI). 
The two-year AP program allows FCHS students to develop collegiate level research and writing skills while also receiving mentorship from graduate and doctoral students at the VBI. Upon completion of the program, students receive dual credit for high school and college in the form of either an AP Capstone Diploma or AP Seminar and Research Certificate. The program saves parents hundreds of dollars in future college expenses and prepares students for college and/or their future careers. 
Open to 10th, 11th, and 12th graders, the program allows students to begin considering their post-secondary education aspirations. "The Fort Campbell students are responsible for identifying and pursuing a novel research question in a field of their choice, which has led to a considerable variety of research topics," said Erin Crossan, teacher for the AP Research Capstone Program. "The objective is to help students discover what they are authentically curious about and empower them on their academic journey towards satisfying those curiosities," she added. 
The opportunity for students to explore their own interests makes the challenging coursework more engaging for students. "I think being able to pick my own topic to study was really important because if the topic was just given to me, I don't think I would've had the motivation to finish the project or work as efficiently on the assignment," said Amaury Andrews, a senior at FCHS. "It made everything I worked on personal because I was researching and studying things I was actually interested in learning about," Andrews added. 
The FCHS students meet with their collegiate mentors a few times throughout the school year and the mentors provide feedback to students on their research questions, literature reviews, methodologies, data analyses, and the overall research processes. At the conclusion of year two, students must present to a panel of three, which includes mentors, administration, and the AP Research teacher, and provide an oral defense of their findings. 
The mentorship, combined with the implications of conducting real-world research, culminates in a grade, but students make a significant realization about their overall educational experience as well. 
"I think being in a program like AP Capstone made me see how other classes I've taken in high school like AP (Language) and AP World History correlate with things I learned in Capstone," said Andrews, who will graduate in 2024 with her AP Capstone Diploma. "I think that just realizing everything we learn is intertwined in some way has enriched my education experience."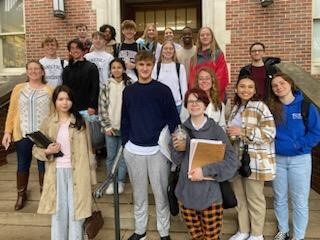 Families are encouraged to visit SchooLinks | DoDEA where they can integrate courses like this and many others into their children's 4/6 year graduation plans. SchooLinks is a modern platform designed with students in mind. Among other highlights, the site allows users to create a personalized dashboard, explore career interests, and compare college tuition costs. Visit Advanced Academic Program and Services | DoDEA to learn more about DoDEA's Advance Academic Programs and Services.