Travel Process for Boarding School
Request for TDY Travel

The personal procurement of tickets is not authorized. Sponsors must use their Commercial Travel Office (CTO).
Travel for boarding school students will need to be arranged through the sponsor's command/agency. The NDSP Sponsor will work with their command/agency to complete Form DD 1610, Request and Authorization for TDY Travel of DoD Personnel-see example below. Once completed, Form DD 1610 will be forwarded to the NDSP for review purposes. For secure transmission of information,please use the NDSP Sponsor Portal. It is a safe and secure portal to transmit documents. Sponsors can also use the AMR DEC SAFE (Secure Access File Exchange) Web Application
Using AMR DEC SAFE, forward all documents to

Lorrie.Eidem@dodea.edu

The DoDEA Chief of Travel and Debt Management, will review, approve, and sign the document.
The DoDEA Chief of Accounting will provide the LOA;
The NDSP will return the travel document back to the sponsor.

Upon completion of travel:

The command/agency will forward the completed 1351-2 and supporting receipts to the NDSP for review and approval.
After review, the NDSP will forward the package back to the Command POC.
The Command POC will forward the documents to DFAS for disbursement.

Additional Information:

The NDSP has the authority to fund one round trip per school year. The travel will occur at the beginning of the school year and at the end of the school year.
No other entitlements are authorized.
Per diem is not authorized.
The total cost of tuition and transportation funded by the NDSP will not exceed the DSSR Education Allowance for that location.
DIRECTIONS FOR THE COMPLETION OF FORM 1610
Box 1: Enter Date of Request;
Boxes 2-7: Provide Sponsor's Information;
Boxes 8, 10a and b, 11: Provide Student Name and Student Travel Information;
Box 12: Estimated Travel Cost.

Please ensure any taxi, POV charges, etc. are included in Box 12c "Other"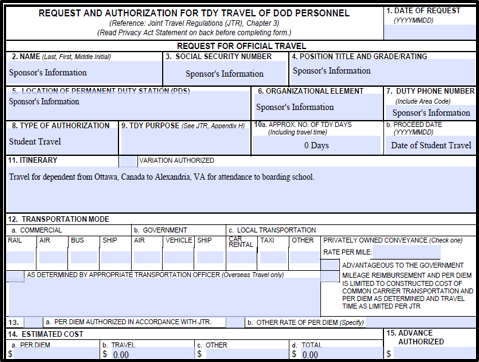 Box 16
Put the sponsor's dependent's name in this box.
Copy the below statements on the student's Travel Request

"Under the authority of 20 U.S.C. Subsection 926(b), The Department of Defense Education Activity is providing student transportation to boarding school for authorized dependents. This travel is IAW the Department of Defense, Joint Travel Regulation, Chapter 5, Part A, Paragraph 5151 Dependent Student Travel."
Baggage Fees and Storage of Materials are not authorized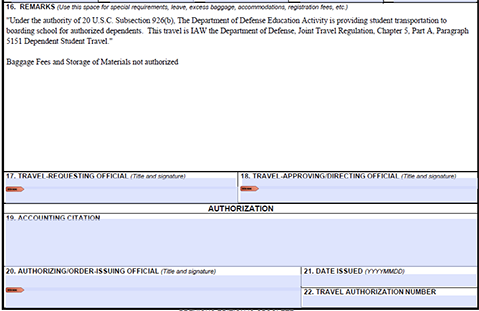 Boxes 17 and 18: Provide your Agency's Signatures;
Box 19: The NDSP will enter their LOA;
Box 20: DoDEA's Chief of Travel and Debt Management will review, approve, and sign.